If you've hung around here for any length of time at all, you know that I am one of Elementor's biggest raving fans.  If, by some strange reason, you have no idea at all Elementor is, let me go ahead and tell you:  Elementor is (in my humble opinion) the absolute best drag-and-drop page builder available.  It's a WordPress plugin that you can use on almost any WordPress website. The free version is great.  Today, though, I want to tell you why everyone should use Elementor Pro.  
First, let me start by saying that you can create beautiful and amazing websites using the basic version of Elementor.  However, if you want to really step it up to the next level and create a stunning, eye-catching website that your visitors won't want to leave, Elementor Pro has built-in tools to help you do just that.
Okay.  Without further adieu, let's jump right in!  These are my reasons why everyone should use Elementor Pro.
You guys, Elementor is the most affordable and most value-packed tool I use as a web developer.  Seriously! I have yet to find a tool that saves me as much time and that is capable of so many customizations as Elementor Pro.  
Just how good of a value is this?  Elementor Pro is only $49 per year.  $49 per YEAR!!! What?! That's barely more than $4 per month.  Who can't afford that?! It's such a ridiculously amazing value, I'm afraid that Elementor will soon realize they have a typo on their pricing card–so go get it quickly before it's too late!  
Okay, back to some modicum of seriousness. With Elementor Pro, even the newbiest of newbs can create professional-looking sites in no time at all, packed full of custom features.  Go get it!
Speaking of custom features:  Even the basic version of Elementor comes with all Google fonts easily and readily available (which is better than many WordPress themes).  However, with Elementor Pro, you can easily add any other custom font that you license or purchase to create a truly customized and unique branding experience for your readers.
Adobe TypeKit also integrates seamlessly with Elementor Pro, so you'll be able to use your TypeKit fonts everywhere!
Built-in contact form widget
Elementor Pro has the easiest-to-use form widget I've seen.  Their forms integrate directly with several popular email marketing systems, such as MailChimp, MailerLite, Drip, ConvertKit, GetResponse, and ActiveCampaign.  
What does that mean for you?  Once you connect your email marketing account with your Elementor account, you can set up your forms to connect directly to any of the groups you've created within your email marketing platform.  
You've probably noticed this if you've spent more than 0.256 seconds on the interwebs lately, but pop-ups are kind of a big deal these days.  Sure, they can get annoying… but they work! And that's why everyone uses them.
With Elementor Pro's newly-released pop-up builder, you have the ability to create some of the most beautiful, highly-customized pop-ups I've seen.  Just check out these templates–and there are so many more!!!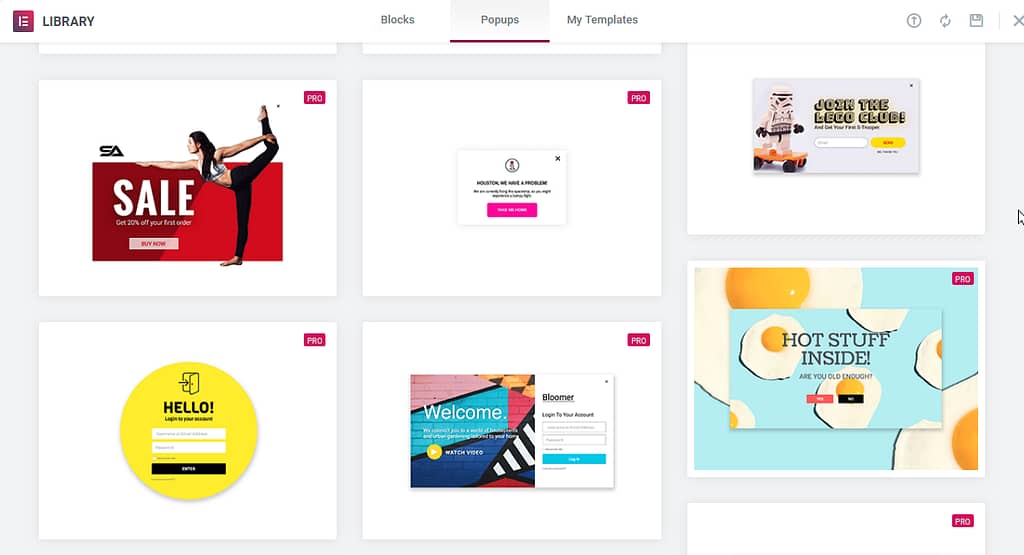 The new pop-up builder is my most recent reason for believing that everyone should use Elementor Pro.
More customization: headers and footers
Looking for a super-snazzy header and footer?  Look no further than Elementor Pro!  (That sounded kind of used-car-salesman-y, didn't it?  Sorry about that… I got a little over-excited…) You can create headers and footers just the way you want them and apply them to your whole site in the click of a button–if you want.  It's all part of what Elementor calls their "theme builder," and it's pretty frickin' cool, if I do say so myself.  
What if you want certain pages or posts to have certain headers and footers?  You can do that, too! With Elementor Pro, you truly have full control over your site's headers and footers.  Such fun to be had!
With the basic version of Elementor, you can save your blog post layout as a page template, which is great…  except that every time you add a new blog post, you have to apply that page template, make adjustments, update your featured image, change the headings, change the body text…  yeesh. Sounds kind of exhausting, now that I'm typing it all out.
With Elementor Pro, on the other hand, there's a template for that!  Part of their theme builder is a blog post template.  This template type accesses the dynamic features of blog posts (i.e., the parts that could change with every blog post), like featured image, post title, author date, publish date, comments, etc.  
With this type of template, you create it once, and then it's done!  You decide where each of those dynamic features should appear throughout the post template.  Every time you create a new post, those dynamic features are automatically added to the appropriate placeholder, and all you have to do is add your post content.  It's that simple!
Every gotten tired of your blog post layout and decide it's time for a change?  With Elementor Pro, all you have to do is change your template.  As soon as you do, all of the posts that use that template will be updated with the fresh, new look!  I love it!
SO MANY OTHER FEATURES!!!
Still not convinced that everyone should use Elementor Pro?  I've barely scratched the surface on the reasons that I love the Pro version so much.  Here are a few more features that I love:
Custom CSS editor

Global widgets (this allows you to save your customized widgets to use elsewhere throughout your site)

Interactive carousels

Sticky elements (don't you like it when a site's header "sticks" to the top of the page no matter how far you scroll?  

Elementor Pro

can do that!)

Portfolio widgets

Pricing tables

WooCommerce builder
Are you convinced yet?  Head on over to Elementor to upgrade to Pro now, and you'll soon be joining me when I say that everyone should use Elementor Pro!